Workshop on Cryptographic Hardware and Embedded Systems 2008 (CHES 2008)
Washington, DC, USA
Sunday August 10th - Wednesday 13th, 2008
Transport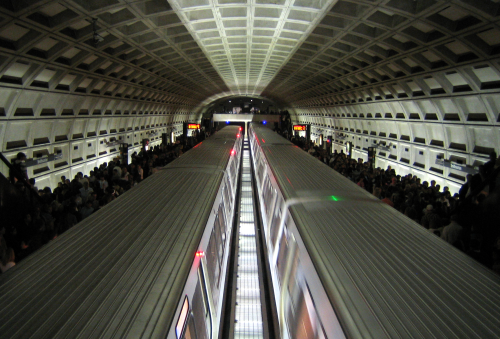 Washington, DC has a very effective public transport system which is operated by the Washington Metropolitan Area Transit Authority or short "Metro". It runs the region's subway system, Metrorail (the nation's second-busiest after New York's subway), as well as Metrobus. The website of Metro contains excellent subway and bus maps as well as schedule and fare information. Metro offers several ways to pay the fare, the most economical are the Passes and Farecards which include Day Passes, Weekly Passes, etc. and can be bought at vending machines at most subway stations. If you plan on travelling only short distances every day the Farecard might be the most advantageous. It can be loaded with for example $10 and then each time it is used the fare is deducted by the gates at the stations or the bus driver. Note: Bus drivers can not give change, you have to pay the correct fare in cash or use a Farecard or Pass.
Important Subway Stations
Conference Hotel Directions
Directions to the conference hotel can be found on the Accommodation page.
Airports
Washington, DC is served by three airports, two international and one domestic. If you rely on public transport, the most convenient option is DCA followed by IAD with Washington Flyer Coach bus and subway. All airports have car rental facilities, however parking in Washington can be expensive.
Reagan National Airport (DCA)
Ronald Reagan Washington National Airport is located only 5 miles away from downtown Washington, DC and it is the only airport in the Washington area with a subway connection (blue, yellow lines). It serves with a few exceptions only domestic air connections but most international carriers offer DCA as a final destination after a stop-over in the U.S.
Dulles International Airport (IAD)
Washington Dulles International Airport is located 25 miles east of Washington, DC in Virginia. IAD is connected only with either the Metrobus line 5A to Rosslyn Station (orange line) (35 min bus + 5 min subway ride) or the Washington Flyer Coach to West Falls Church Station (orange line) (25 min bus + 20 min subway) for $9 (coach bus only). A taxi ride to the conference hotel cost approximately $60.
Baltimore-Washington International (BWI)
Baltimore-Washington International Thurgood Marshall Airport is located 30 miles north of Washington, DC in Maryland. BWI is connected with MARC and AMTRAK trains to Union Station and the B30 Metrobus line which connects to the Greenbelt subway stop (green line). A taxi ride to the conference hotel cost approximately $100.
Map
The Google Map below indicates the location of the CHES Conference Hotel, Mayflower Hotel, the CHES Banquet, National Museum of Women in the Arts, and the Excursion, National Cryptologic Museum as well as several other places of interest around the hotel.
View Larger Map